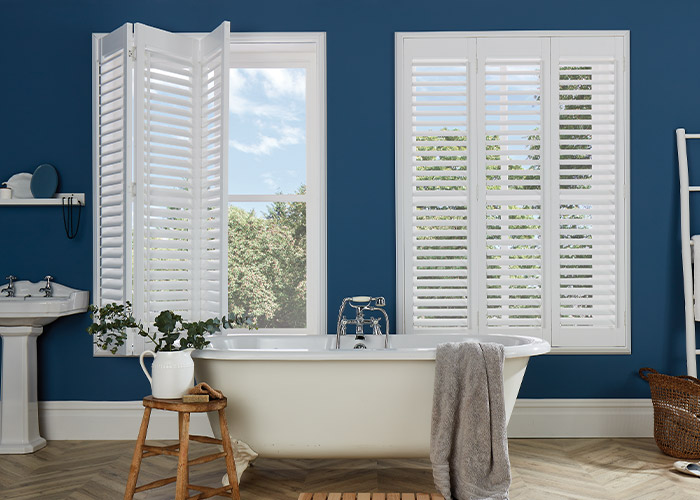 Bathroom Shutters
Fabric blinds in Bathrooms can divide opinion as they're not suited to humid conditions, but our Bathroom Shutters are a fantastic looking alternative that are becoming exceptionally popular.
Waterproof & Heat Resistant
Our Vienna range is impervious to both heat and water, making this range the ideal Shutter solution for your Bathroom!
Great for Privacy
Bathroom window coverings need to provide privacy, and Plantation Shutters meet this need exceptionally well!
With the flexibility of split louvres (the slats), you can change the configuration as needed. For example, you can close all the louvres when showering for maximum privacy, or have the top half open when in the bath to let is some sunshine! The choice is completely yours!
Easy to Clean
Unlike fabric blinds which absorb moisture and can be prone to stains, damp and mould, those accidental splashes and water marks will wipe straight off our Bathroom Shutters, making them the stylish and hygienic choice for your wet room!
Get an Instant Estimate
Call us now to arrange FREE expert measuring:
01472 927 011
Our experts will provide you with a free quote and be able to off advice on finding the perfect Shutters for your space.