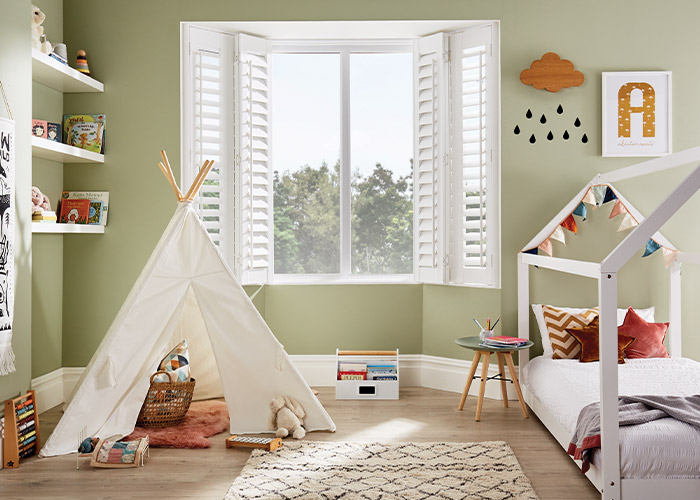 Children's Bedroom Shutters
Shutters are a beautiful and functional replacement for Blinds or Curtains in Children's Bedrooms.
Safety First
Unlike conventional blinds, Shutters don't have a hanging cord or strings that can be a safety concern in Kid's Bedrooms.
Easy to Clean
Shutters are tough, durable and wipe-clean, all of which tend to be vital when children are involved! Shutters also don't gather dust like soft furnishings (which can be great for allergies), and finger prints and other mucky marks from those little sticky fingers are easily wiped away!
Reduce Light & Noise
When they're finally asleep, we don't want the Kid's disturbing! Shutters act as a physical barrier against your window, reducing noise and light entering the room.
Q - Are Shutters "Blackout"? A - Although Shutters significantly reduce light, the louvres (slats) do have small gaps so aren't enough to totally block light on their own. However, Shutters do sit slightly in front of the window itself so you can still use a conventional 'blackout' blind to get the best of both worlds!
Get an Instant Estimate
Call us now to arrange FREE expert measuring:
01472 927 011
Our experts will provide you with a free quote and be able to off advice on finding the perfect Shutters for your space.