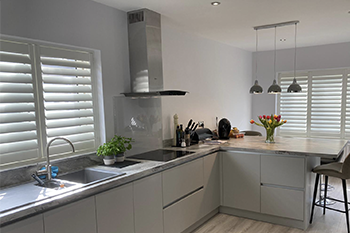 Kitchen Shutters
We think our Shutters look at their absolute best in stylish Kitchens.
Their clean lines, durable functionality and heat/water resistant qualities make our Kitchen Shutters a must.
Easy to Clean
Kitchen Shutters are wipe-clean, which makes them ideal for food-preparation environments.
No 'Kitchen Smells'
Unlike Blinds (or even Curtains!), Kitchen Shutters don't absorb cooking smells like fabrics.
A Perfect Fit
Getting window coverings to fit in Kitchens can be troublesome, as there always seems to be a sink, tap or unit to avoid! Our Kitchen Shutters are totally bespoke and designed around your room, so we can always achieve a great-looking solution.
Get an Instant Estimate
Call us now to arrange FREE expert measuring:
01472 927 011
Our experts will provide you with a free quote and be able to off advice on finding the perfect Shutters for your space.