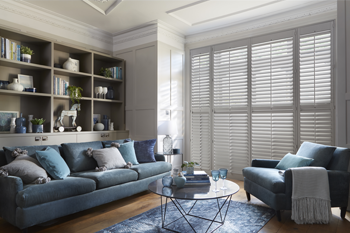 Living Room Shutters
Living Room Shutters take advantage of some of the best qualities Plantation Shutters have to offer.
Light Control
Welcome in the sunshine if you're reading, or shut out the world if you're snuggling up for a movie.
Living Room Shutters give you fine control over the light entering your room.
Private Space
Living Rooms are often ground-level and facing into the street; Plantation Shutters provide a level of privacy that doesn't compromise the light.
You can block out the world, without always having the curtains shut!
... and they look Great!
Shutters help to transform a room into a beautifully designed living space.
Q - can you have Shutters in a Bay Window? A - Yes! It's one of the questions we get asked most often, but yes, you can definitely have Plantation Shutters in a Bay Window! There's a lot of different options too. Read more about Bay Window Shutters
Get an Instant Estimate
Call us now to arrange FREE expert measuring:
01472 927 011
Our experts will provide you with a free quote and be able to off advice on finding the perfect Shutters for your space.