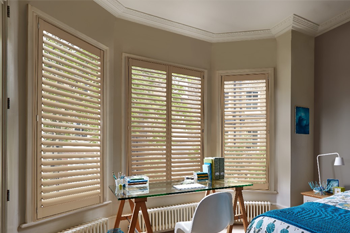 Home Office Shutters
Whether or not you're fortunate enough to have a designated Home Office or Study, or you've setup a desk somewhere else in your home, Office Shutters can make Work from Home a much more pleasant experience!
Light Control
Good ligthing is vital to efficient and comfortable working.
Natural light helps boost your mood, but screen glare from your windows or super-bright Zoom calls can hamper your work performance.
Installing interior Shutters in your Office space helps you control the amount of light entering the room; you can not only fully open (or close) the Shutters, but you can you can even open, close or tilt the louvres for fine tuned control.
Privacy
Office Shutters provide privacy without blocking the light - meaning people can't see in, but if you're trying to concentrate you also don't get distracted staring through the window!
If your desk is placed in front of a window, Café style shutters also do a great job of hiding cables or the backs of monitors!
Get an Instant Estimate
Call us now to arrange FREE expert measuring:
01472 927 011
Our experts will provide you with a free quote and be able to off advice on finding the perfect Shutters for your space.