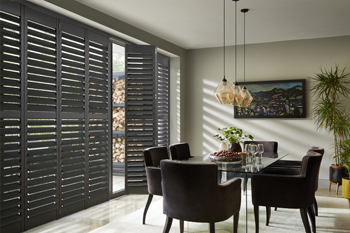 Dining Room Shutters
If you're redecorating your Dining Room or remodelling it into a haven of entertaining friends and family, Plantation Shutters make a striking statement which can transform your space.
Whether you go for Classic White or one of our Coloured Shutters, you'll be assured to get a few 'wows' from your guests.
Designed for your home
Plantation Shutters are available in all shapes and sizes, even spanning large spaces if needed.
Separate Dining
Shutters can even be used to divide up spaces, so a Kitchen/Diner can become a separate Dining room or opened back up when desired.
Our experts can help advise on all of the possibilities to help transform your Dining Room.
Get an Instant Estimate
Call us now to arrange FREE expert measuring:
01472 927 011
Our experts will provide you with a free quote and be able to off advice on finding the perfect Shutters for your space.